Mais 1 artigo k fala sobre o ex - actor da serie prison break : Lane Garrison k intrepretava a personagem : David Tweener.
No artigo diz o seguinte :
Liberdade poderá chegar mais cedo do que o esperado para Lane Garrison.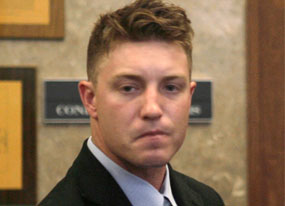 O actor, condenado em Outubro a 40 meses atrás das grades por conduzir embriagado , poderá ser libertado logo em Janeiro de 2009, graças ao bom comportamento disse, uma fonte próxima de Garrison exclusivamente ao E! News.
Na sua nova unidade, os detidos são capazes de jogar basquete e ler  livros da biblioteca da prisão, o que faz ele ", de longe, o mais confortável" lugar Garrison foi dado a ser encerrados em agosto, para se submeter ao tratamento de diagnóstico na California Institute for Men in Chino.
Numa parte ele disse o seguinte :
They had just left the gathering, where Garrison's attorney said he had one drink, when the accident occurred. The actor suffered minor injuries.
"I just want to say how sorry I am to the Setian family," Garrison said in court in October before he was sentenced. "I am sickened by my behavior on that night. My thoughts keep coming back to that night.
"I want to show that my walk with sobriety will be very easy. I want to help other kids not make the same mistake I did."
Para lerem o artigo td : http://www.eonline.com/news/article/index.jsp?uuid=07e3570c-3b1a-42ff-9200-b616a461171a